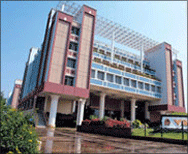 Welcome to Vikas Vidyaniketan
Vikas is offering hostel facility for boys at Visakhapatnam. Vikas had own its Ultra-modern Residential Campus near Airport. With all its advanced features which is an architectural delight in the state.
High quality living, personal care and environmental hygiene are well taken care of at all Vikas hostel. Outdoor games like cricket, football, volleyball, basketball and Indoor games like chess, caroms, T.T. and other play activities are part of the daily routine of Vikas hostel students.

High quality living, personal care and environmental hygiene are well taken care of at all Vikas hostels. We have personality development classes, Creative Club, Communicative Skills classes to the interested students and sports clubs like Cricket, Basketball, volleyball, Chess, caroms, TT.

Delicious and nutritious food is served to the hostel students. Vikas believes that the crucial growing age of the children should be properly taken care of and their academic concentration should not suffer because of diet related reasons. Unlimited breakfast, lunch and dinner, with evening snacks, morning milk, fresh fruits, egg and curd is the whole meal for Vikas children. Monthly "Food festivals" are also conducted. From its inception Vikas is known for its quality food.

For parents of girl students it is always an anxious moment to keep their children in the hostel. For that reason Vikas gives enough emphasis to all aspects such as personal care, proper counseling, utmost security and good health. Maximum effort is put to see that they feel at home. At times the care and security aspects may cause some inconvenience to parents and guardians. But such measures are in the interest of the children only.

Doctors regularly visit hostels. They look after students with normal sickness. In case, the doctor suggests hospitalisation, they are admitted to the nearby hospital and the same will be informed to the parents.

The academic routine of the hostel students is in 3 broad divisions. Teaching, guided study and self-study. Faculty is available during guided study schedule to clarify the doubts of the students and motivate them academically. Self-study is supervised by the coordinators or by wardens. Students' academic performance is informed to the parents every week through SMS.

Newspapers, periodicals and magazines are available in the Reading room.